Here are some pictures of Soyoko and me!
Soyoko and I met in May 1998 and quickly fell in love. We met through a personals ad. in a free magazine called Tokyo Classified. It was my ad, by the way, and she responded. On our first date we had dinner (Japanese soba) and afterward we ate ice cream. The rest is history. We married in May 1999 after living together for about 9 months. I hope you enjoy the pictures.
---
Click on the picture to see it full-size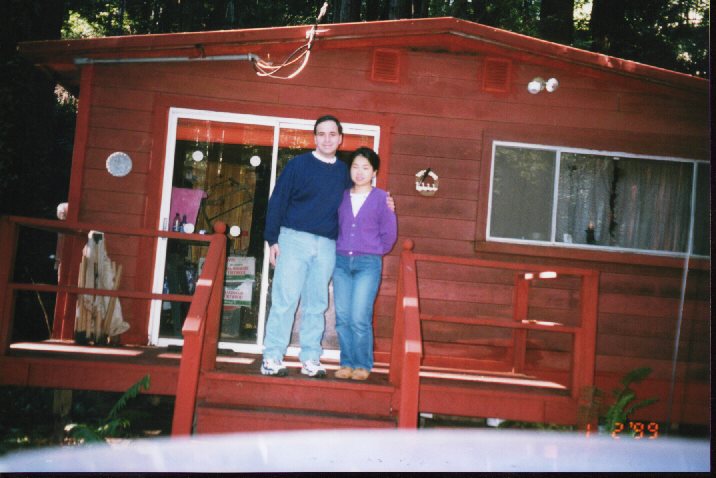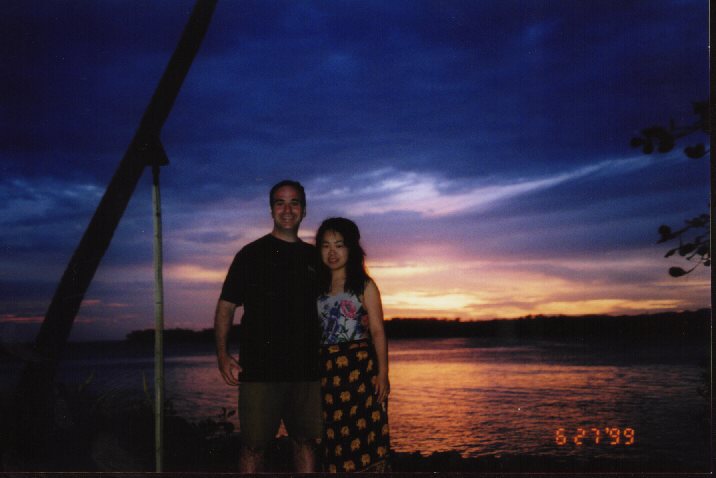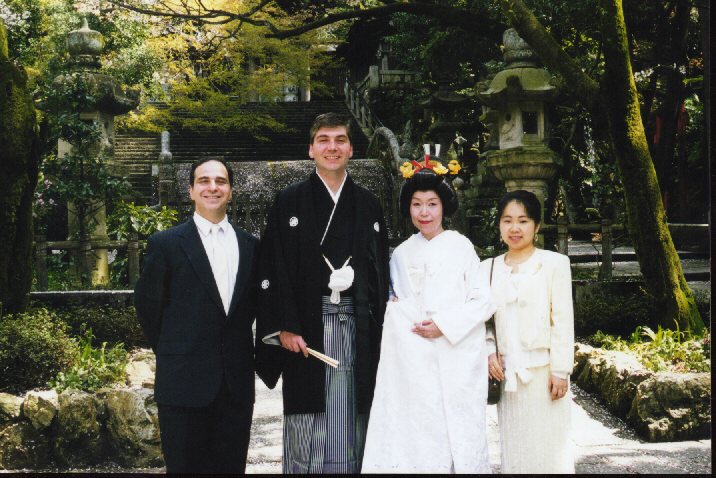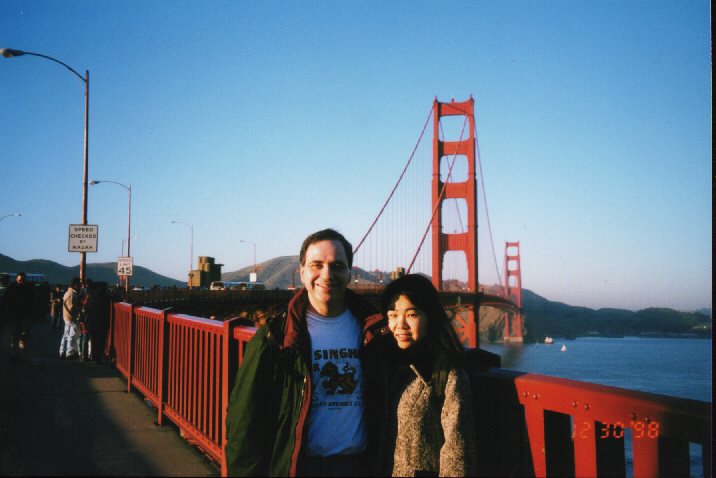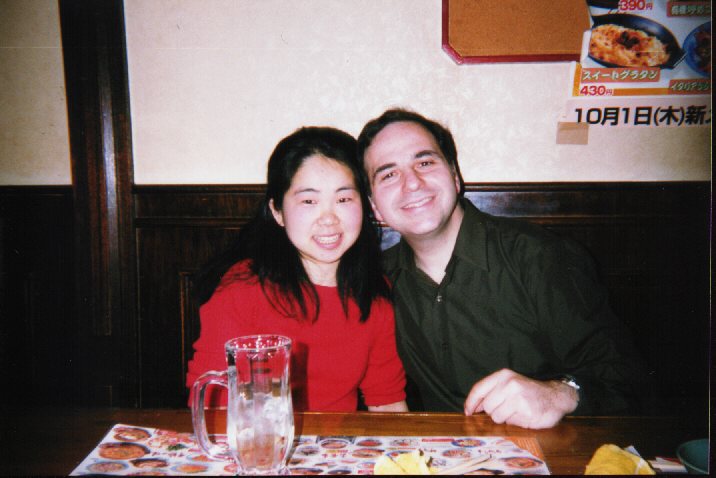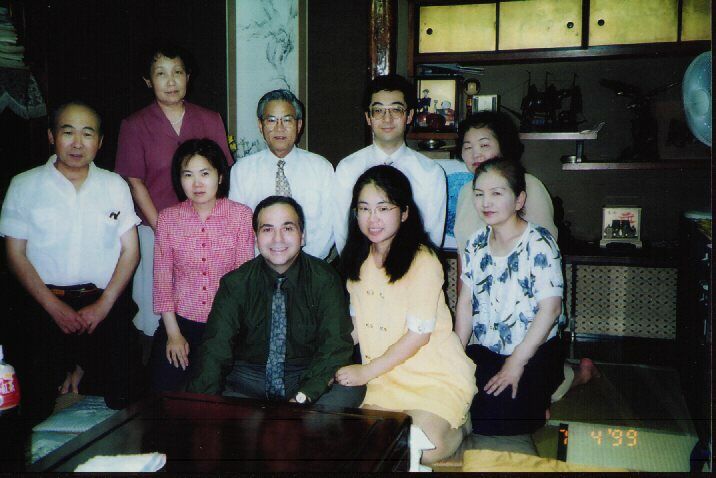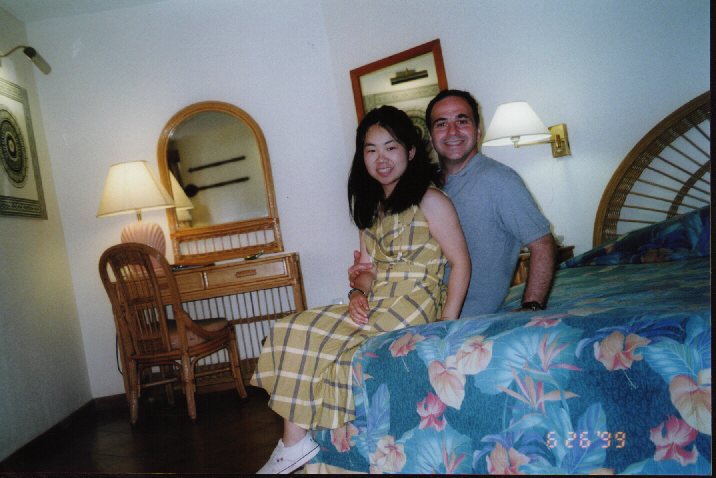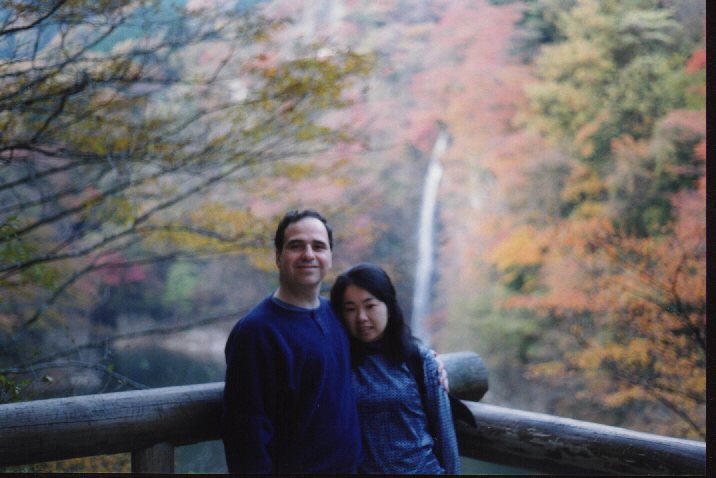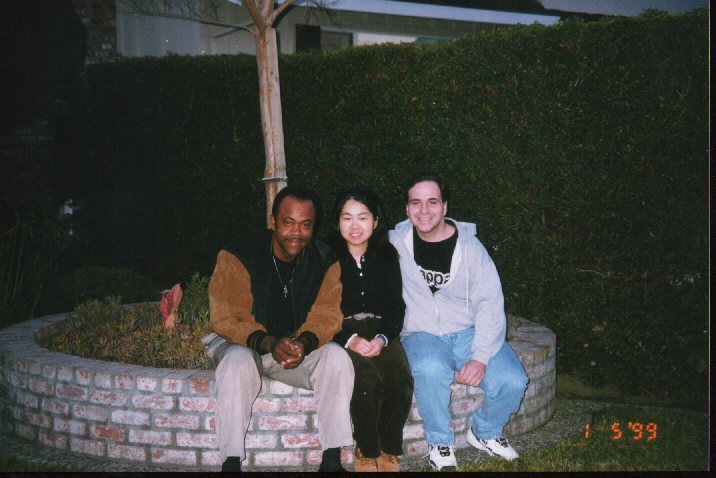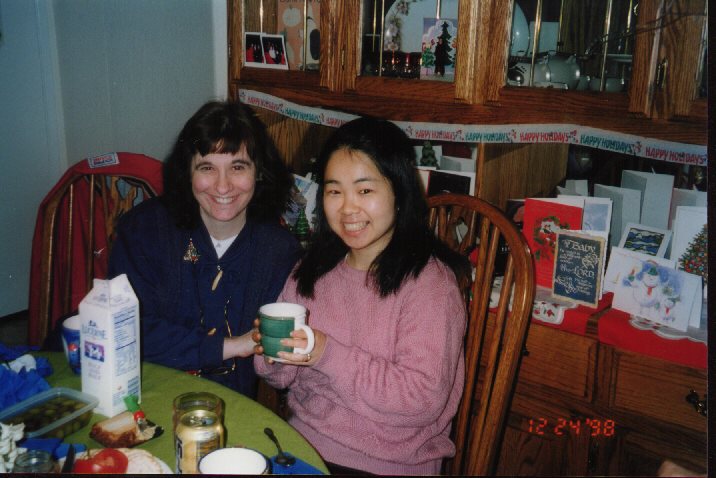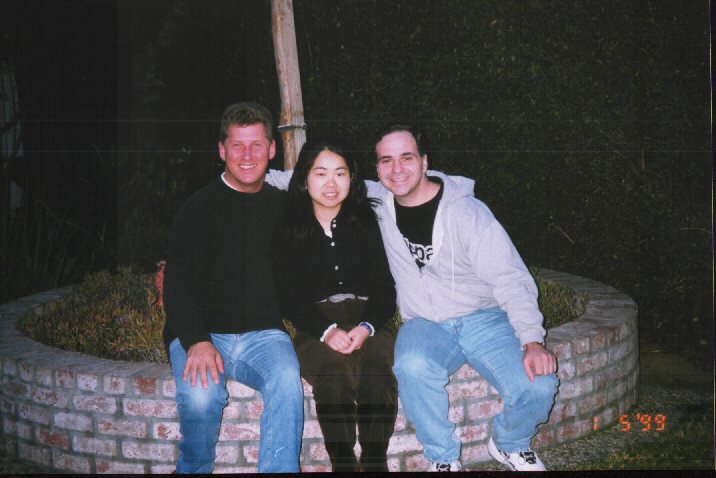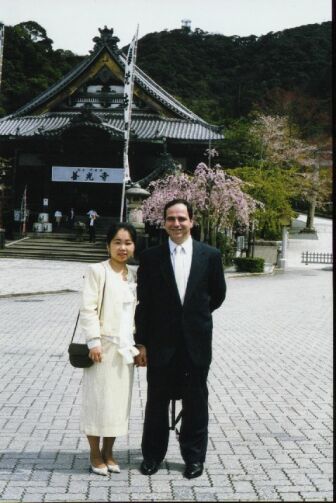 The first picture was a self-timer shot taken at our family cabin in Cazadero, Ca (Sonoma County) on Jan 1, 1999. Next is a Fijian Sunset taken during our honeymoon last year. The third was taken last April at the wedding of my friends Michael and Toshiko, in Gifu City. Next, a Jan. 1999 trip to the Golden Gate Bridge. The fifth picture was taken at a party at a Japanese izakaya(bar/restaurant) in Oct. 1998 in Akabane, Tokyo. Next is a picture of Soyoko's family and me. On the far left is my father-in-law, on the far right is my mother-in-law (next to Soyoko). Others include Soyoko's sister and brother-in-law and some uncles and aunts. The next one is of Soyoko relaxing on the beach with a cool drink. Another honeymoon picture taken at Mokushigas resort (a tiny island) in Fiji. Then comes a picture taken in Nov. 1998 on a trip to Nasu (several hours north of Tokyo by train). We enjoyed the beautiful colors of Fall. The next shot is of Soyoko and I with my friend Ivan. I've known Ivan Berry since junior high school (almost 30 years) and he is one of my closest friends, even if he doesn't return e-mails. Next is a picture taken on Christmas eve of Soyoko and my sister Kathy. We had a wonderful visit to San Jose, Ca. for the holidays in 1998. Next is a shot with my friend Kerry Bliss. I've known Kerry for more than 10 years and he always impresses me with his enthusiasm and wonderful outlook on life. Last, is another picture taken in Gifu (near Nagoya), after the wedding.

Check out these new pictures from our recent trip to Europe.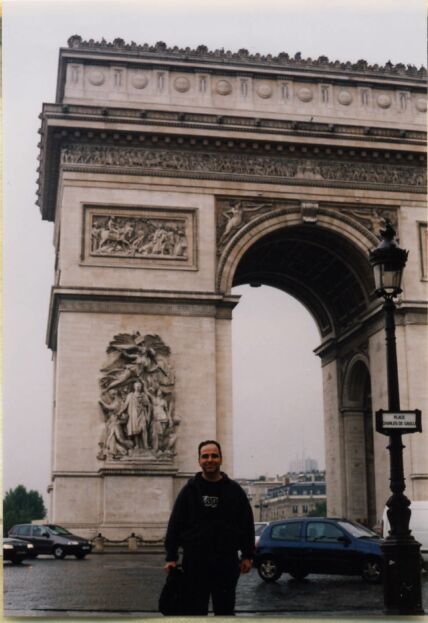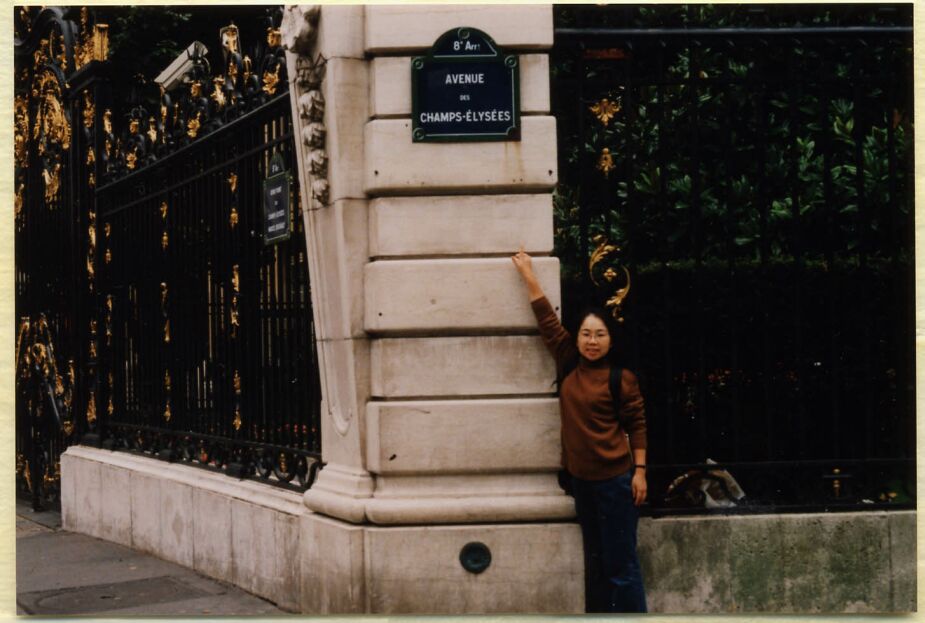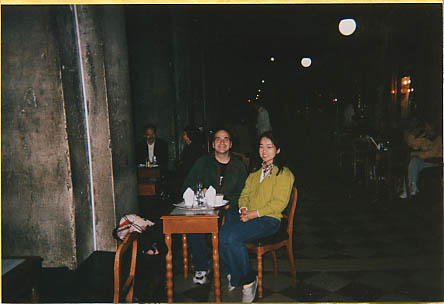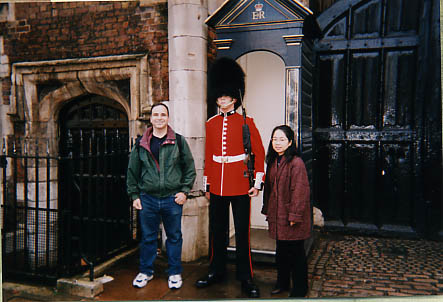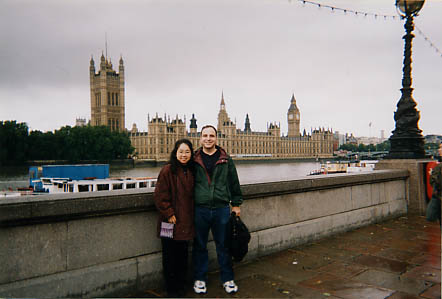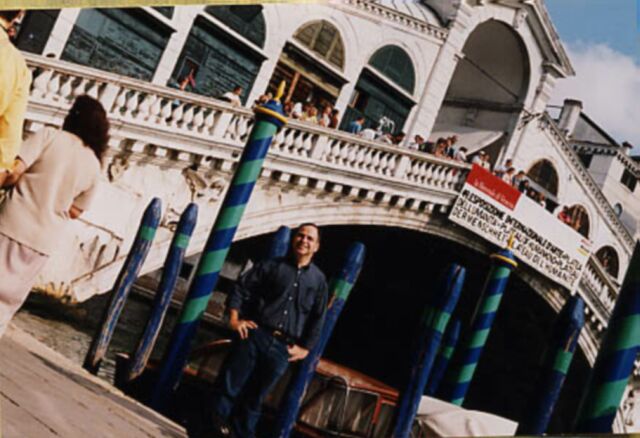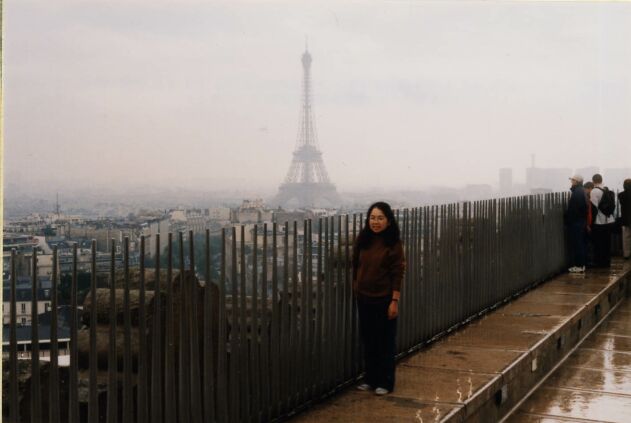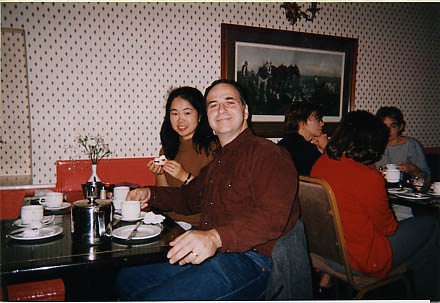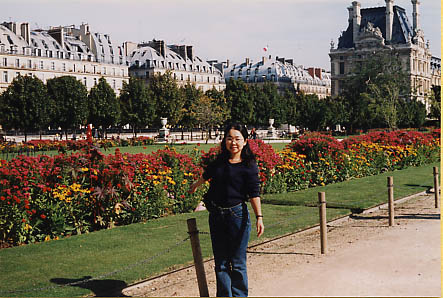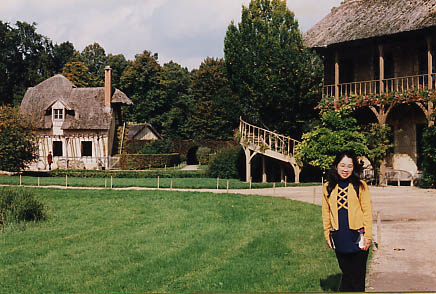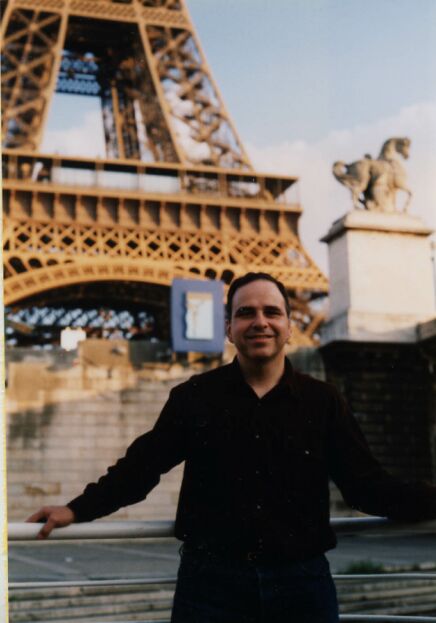 The first picture is of me in front of the Arch de Triomphe at the Place Charles de Guall. We had just braved a 30-minute rain downpour while walking down the Champs Elysees. Next is a picture of Soyoko taken while we walked down the Champs Elysees from Palace Concorde to the Arch before the rain. The third picture shows us relaxing with a cappachino at the Florian Cafe (one of the oldest cafes in the world) on the Plaza San Marco in Venice. Next is a picture taken in London in front of St. James palace (where Prince Charles lives). The guard didn't move while about 20 people took pictures next to him. Next, another shot in London with Parliment and Big Ben in the background. Back to Venice of a shot of me in front of the famous Rialto Bridge. It's a good shopping area but a bit "touristy" as expected. I got a great leather briefcase there. The next picture was taken on the top of the Arch de Triomphe. You can climb to the top (more than 200 steps) and get a great view of Paris, even on a rainy day. The next picture shows Soyoko and I enjoying afternoon tea at Stow-on-the-Wold in the Cottswolds west of London. We had a nice day-tour out to the famously bucolic British countryside. Back to Paris for a shot of the park next to the Louvre Museum. I thought it was called Tivolli but Soyoko says it isn't. Anyway, we had a wonderful picnic lunch in the park on our last day in Paris. As you can see it was a beautiful sunny day. The next picture was taken on the grounds of Versallis Palace. There are about 30 acres of land around the palace and you can wander around enjoying the pastoral landscape. This picture was taken near the Petit Trianon which was Marie Antoinette's favorite part of Versallis. There is a recreated, old-style French village there that is very nice. The next picture was taken in the British Museum in London. Me and the Easter island head. Do you see any resemblance? The last picture was taken in Paris when we were on a boat ride along the Seine. It was quite pleasant and I highly recommend it as a good way to see the highlights.
Please see the next gallery for pictures of me in some unusual locations

---